WordPress is a huge CM system. It has thousands of users and developers. As a website owner or developer, we know that it becomes very difficult to handle any website alone. So it is obvious to think to add a new user in WordPress dashboard.
Sometimes we need help to execute operations and sometimes to expand the brand. However, WordPress got a system to assign users with their respective responsibility.
Adding users or authors is very easy in a WordPress dashboard. WordPress is pretty secure, so we don't need to worry about the security of adding new users. We are going to discuss step by step process to help you out with the query.
Types of the users and their responsibility
There are different users that we can add in the WordPress dashboard. Every user is assigned wit their distinctive functions. It is not necessary for every user to have access to permission. We can choose which user will have what authority.
There are different types of user roles like ( Administrator, Editor, Author, Contributor, Subscriber ).
Administrator- One who access all the Administration function within a single site.
Editor- One who can manage and publish the post.
Author- One who can manage and publish own post
Contributor- One who can only write and manage post but can't publish
Subscriber- One who can manage their profile only.
Steps to add a new user in the WordPress
1 The Very first step to add a new user in WordPress is well known by all WP users. I mean we need to login to our website. We need to enter the password.
If the password match, we will be on the new page if not just click "Lost Password" and rest it.
2. Now As we have login we are in WordPress Dashboard. In the WP dashboard, there are users in the left sidebar. We need to click on that.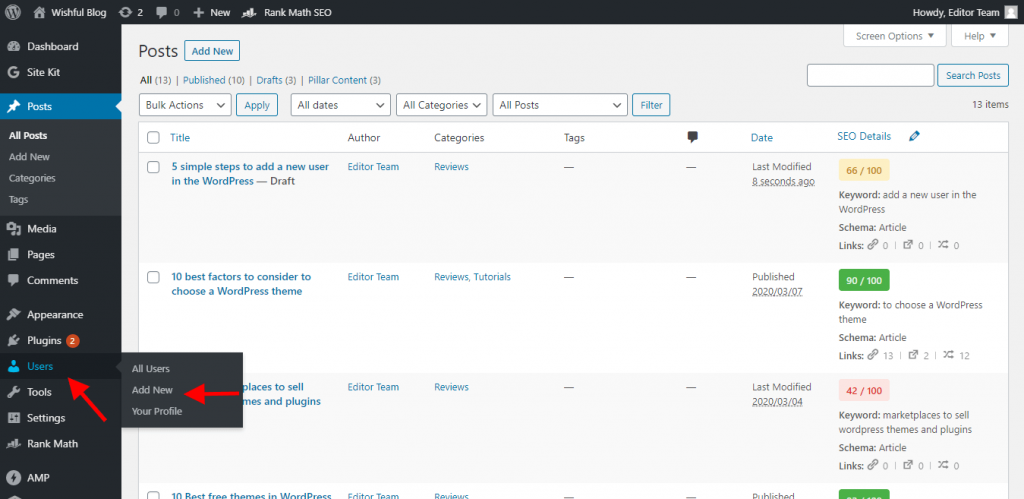 3. The Screen will change like image and we need to click on Add New Which you will see at the top of the screen.
4. Now we are in the Add New User Screen. We need to Enter the username and Email address for every new user.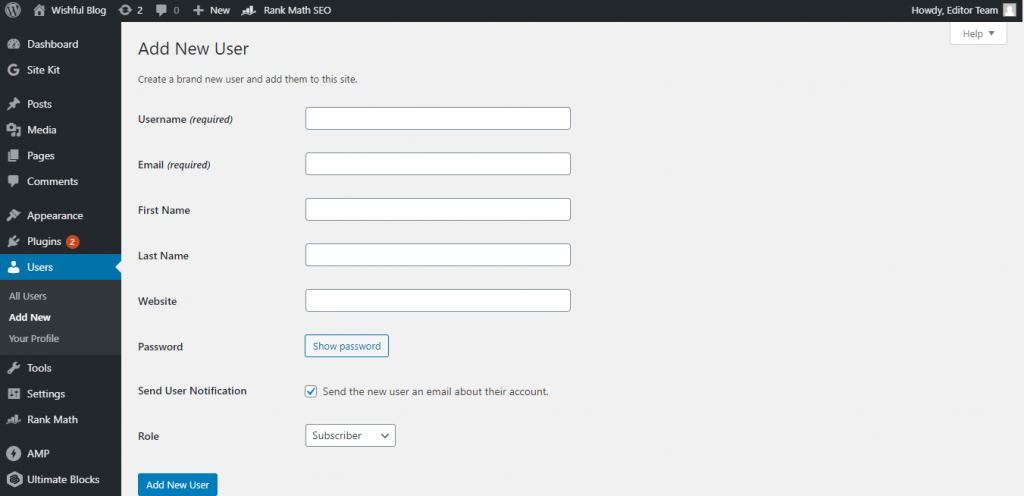 5. Now it is time for the Password we need to enter a secure password for our new user. We need to have a secure password so that hackers cannot reach us. To have a secure password we need to use uppercase, lowercase, numbers, a special character in our password.
Another idea to have a secure password is use of password generator or Use the WordPress that randomly generates Password.
6. You can keep the " Send user Notification" Checked if you want your new user to receive an email on login information
7. Now, this step is for choosing the Role of our users. By default, the user can have access to every feature of our website.
But we need to change the setting so that we can have good control of our website. We can define the role of user as per need.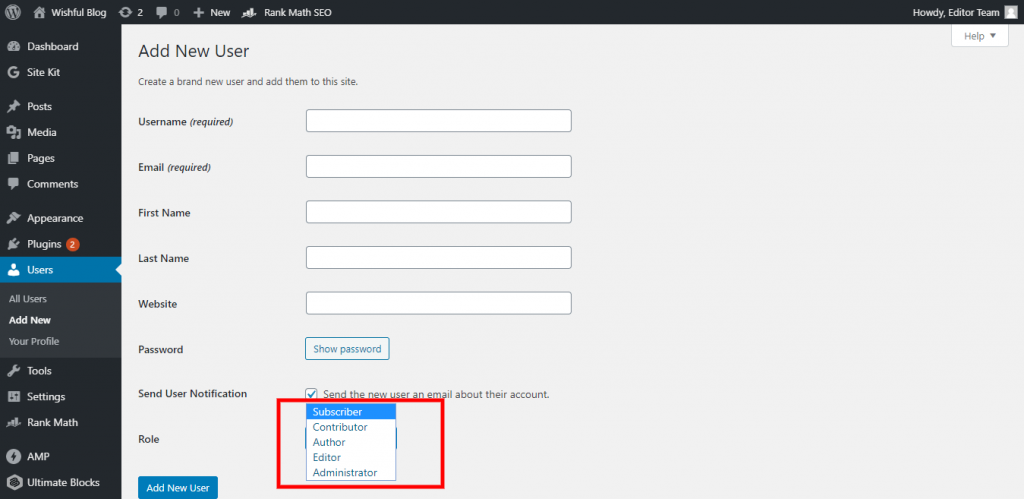 8. Now just click Add new User and done.
---
Change user Roles
We can change the User Role in the process to add a new user in WordPress if need in the coming future. Just need to follow this simple step
Head to Users>>> ALl users in our WP admin
Look for the box just after user avatar
Change the role as per required to a dropdown menu
Change
Conclusion
The steps to add a new user in WordPress. I hope you will find the steps easy and the content is going to help you.
You are free to send the question regarding the topic. We will try our best to answer you as soon as possible. THANKYOU!!!! For more such interesting content " factors to consider to choose a WordPress theme"," free themes in WordPress" KEEP ON VISITING !!!!!