We are here to discuss the best subscription plugins for WordPress to magnify the brand of our website.
Subscription or membership sites are trending over the internet for obvious reasons. Also, these kinds of websites can reach their destiny in less time comparing to another general of the website. Because these websites depend upon subscribers or members.
As we know that subscription or membership sites are those websites in which users register themselves as a valid member to get access to the exclusive contents. However, there is a thin line between a membership website and a subscription site.
A membership site is those where one can be part or member of the site till the site is active and they can get advantages of website content till the lifetime of the website while in subscription website one has to pay at regular interval of time in return of the services and kinds of stuff given by that website for that interval of time.
It is a common mistake to use membership instead of a subscription. But we have to be clear on that.
Many other websites have their earnings mostly from affiliate marketings, brand endorsement, which invites major risks of failure and crisis. But in the case of subscription website the major revenue is from the subscribers eliminating such risks of bad deals and market recession.
We can limit access to downloading, online content, forums, and supports for subscribers. The subscription plugins will help us to make our website to be presented more effectively and attractively. Plugins are designed to enhance the functionality of any theme so we all need at least some plugins on our website for the better functioning of our website.
Things to consider while choosing a subscription plugin for WordPress
Ease of use
Compatibility
Design and features
Let's start with the list
Best subscription plugins for WordPress
We have gathered the top 10 best WordPress subscription plugins that may help you in your website building. They are the best available in the market at present. Go through them briefly to take full advantage of them.
Memberpress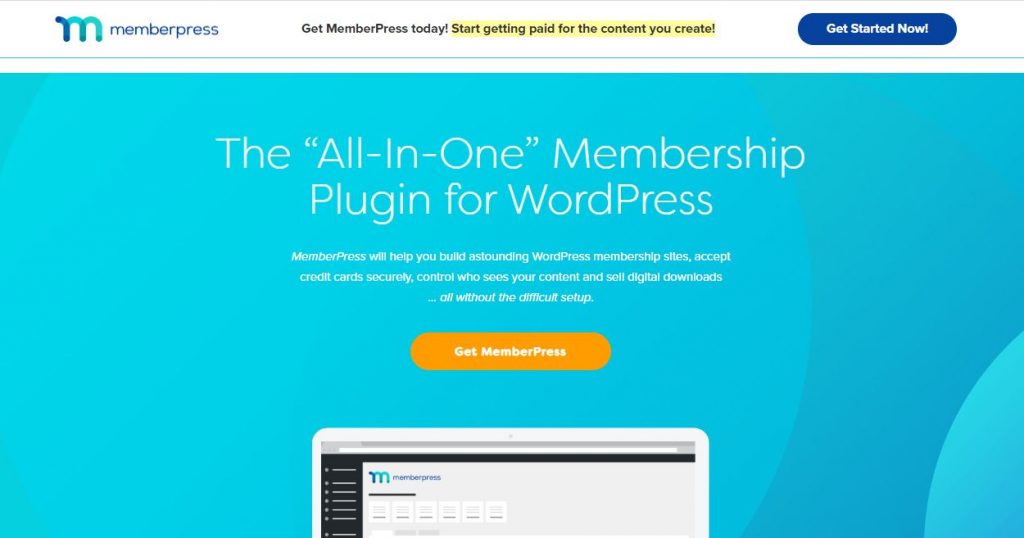 Whenever the name for the best subscription plugins for WordPress comes to the first one that encounters is the Memberpress. IT is recommended by many professionals and experienced WordPress website owners.
This is a premium plugin that is equipped with all the features that are required to build an extremely attractive website. We can develop or design a fully operational website and also can transform our existing website into a subscription website.
Memberpress allows us to categorize all of our contents like pages, posts, tags, and files that have been uploaded on our website and help us to restrict them according to the subscribers.
It is widely famous and easy to use WordPress subscription plugin with maximum flexibility to mold our website according to our planning. This plugin can support various digital products as well as manage subscription websites easily. However, it could be an expensive one.
Features
Unlimited subscribers are managed
Create unlimited access rules
Market enough amount of digital products
Automatically grant and revoke access when subscribers join or unsubscribe
Content dripping with the timed release of access
Premium support
---
WooCommerce Membership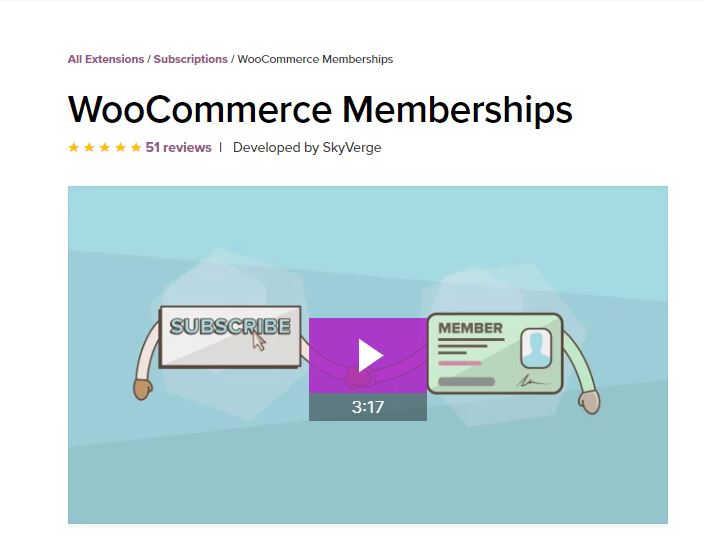 Another name in the list of the famous subscription plugins for WordPress is WooCommerce membership. This plugin will give us full control over our website. We can create easy subscriptions that provide content in exchange for fee or we can attach subscription into it.

We also can choose to restrict content to subscribers based upon specific posts and pages, projects, tags, and categories. Woocommerce membership, one of the best WordPress subscription plugins can be combined with WooCommerce subscriptions to give equal control over the content provided during free trails.
We have advantages of other extensions of woocommerce like subscription, Bookings, Groups, etc. It is expensive and we need to buy extensions to maximize the functions of the plugin.
Some feature about this plugin is that the members or subscribers can fully control the pause, upgrade, downgrade with some other adjustment. So if we are searching for a good and effective WordPress subscription plugin then this is the one.
Features
Restricted either viewing of content or products purchasing
Has unlimited subscription level
Multiple memberships are provided for one customer
Great selection of payments gateways
Ability to integrate an affiliate program into the membership structure
Premium support
---
Paid Memberships Pro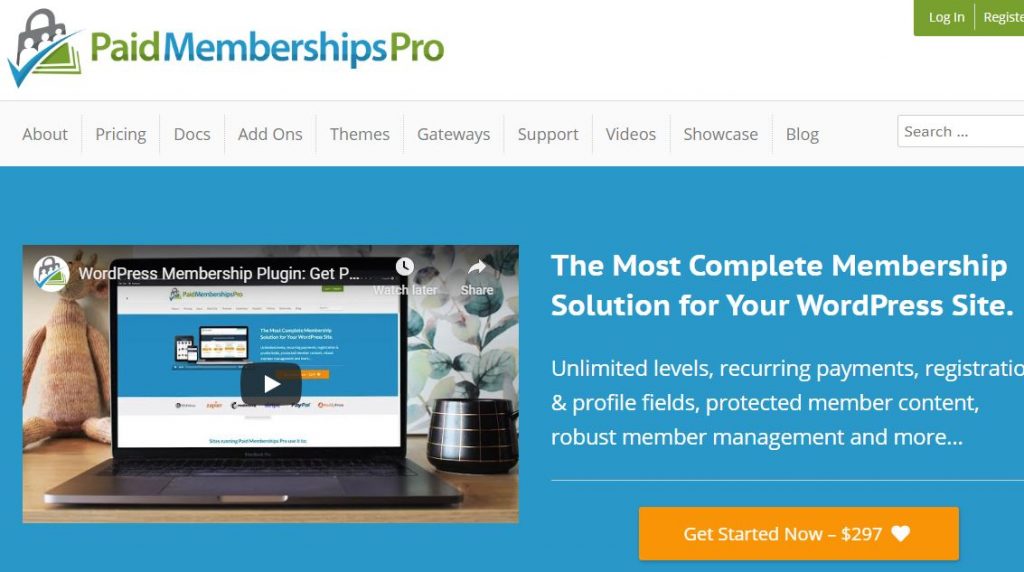 Another popular option for the best subscription plugins for WordPress is Paid Membership Pro. It is very dedicated to our services and helps us to think out of the box. We can create unlimited subscription categories wit different levels of prices and payment options. We can charge a one-time fee, or offer free trials or choose for a recurring billing cycle.
We can do more commanding activities like restrict content, add a meta box to each post or pages and we can restrict content for each subscriber. It can display snaps of restricted content to non-subscribers.
Many strategies performed by this WordPress subscription plugin will lure visitors into subscribers and help us to rank our website. It also provides interesting advertisement options and offers various payment options and email marketing strata.
Features
Unlimited Subscription levels
Payment Gateway Integration
Flexible pricing and Free Trial Periods for Subscribers
Accept Recurring subscription
Personalize the notification email messages
Content dripping over time
---
Paid Member Subscription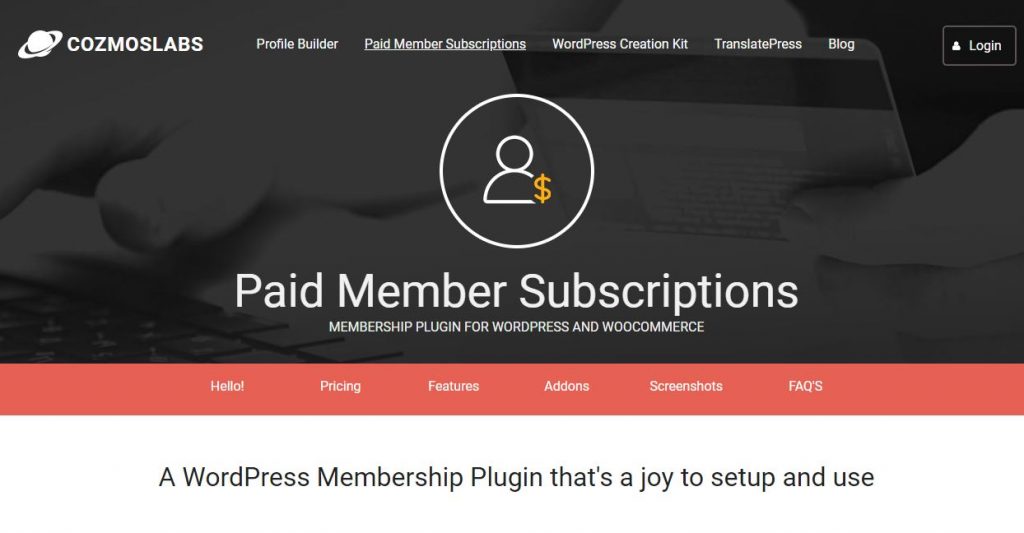 If we are searching for the versatile subscription plugins for WordPress then we are looking at the perfect option. We can start a fully operational subscription site. However, to get access to the full power of this WordPress subscription plugin, we need to buy the premium version of it.
This powerful plugin will allow us to restrict access to our website materials and services by post, page, tags, and categories. It also helps us by providing the demo website to perfectly know the function of the plugin.
Furthermore, it is a fast, lightweight, and flexible WP subscription plugin. We can get two types of premium version one for $69 per year snd another for $149 per year. In the market, it is already known that the more we pay the more we get.
Features
Management of unlimited subscribers
Navigation menu filter
Accept payments
Globally restrict access to content based on post type, taxonomy, and terms
Content dripping with the timed release of access
Discount code for promotions
---
Restrict Content pro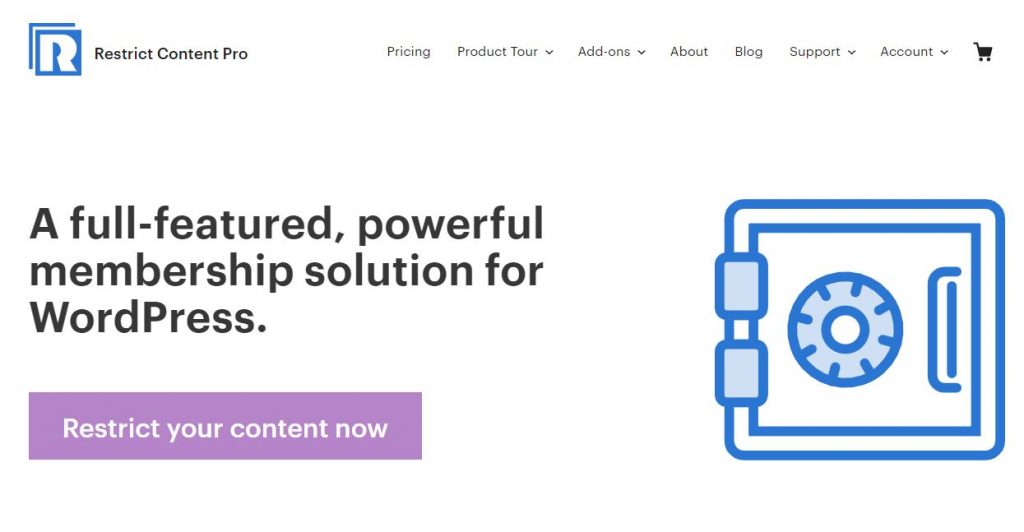 Restricted Content Pro is one of the full-featured and powerful subscription plugins for WordPress. We can get a well-designed user interface that fits best in the aesthetics of the words admin area.
It is very easy to use and there are lots of documentation are given throughout the setting pages to assist us and help us to start as quickly as possible. This plugin is the bundle of great features that can give us total control over our website content.
To cope with the present requirements, it is continuously improving it and adding new features continuously. We have different ways to restrict and allow our website content using this wonderful WordPress subscription plugin.
Features
Unlimited subscription numbers
Create unlimited subscription package levels
Customer dashboard allow our customers to view and mane their account
Sell unlimited digital products
Prorated upgrades, and downgrades
Premium support, and updates
---
aMember pro
aMember Pro is another plugin that is aked with various features that can assist us to start and run any type of subscription website with ease. Among the names in the list of best subscription plugins for WordPress stand there for good reason.
It is an old plugin and designed to work with WordPress and others so sometime there may be some issue with the compatibility with other themes and plugin. However, we can create limitless subscription level set dynamic products and add unlimited products.
We can control the admin area easily and we can modify members and their subscriptions and also view the detailed reports.
Features
Incremental content delivery for drip release
Unlimited subscription level and items
Select fail-back payment processors
Automated member sign-ups and expirations
Integrated modules including email newsletter, helpdesk, and an affiliate
Create coupon codes
---
MagicMembers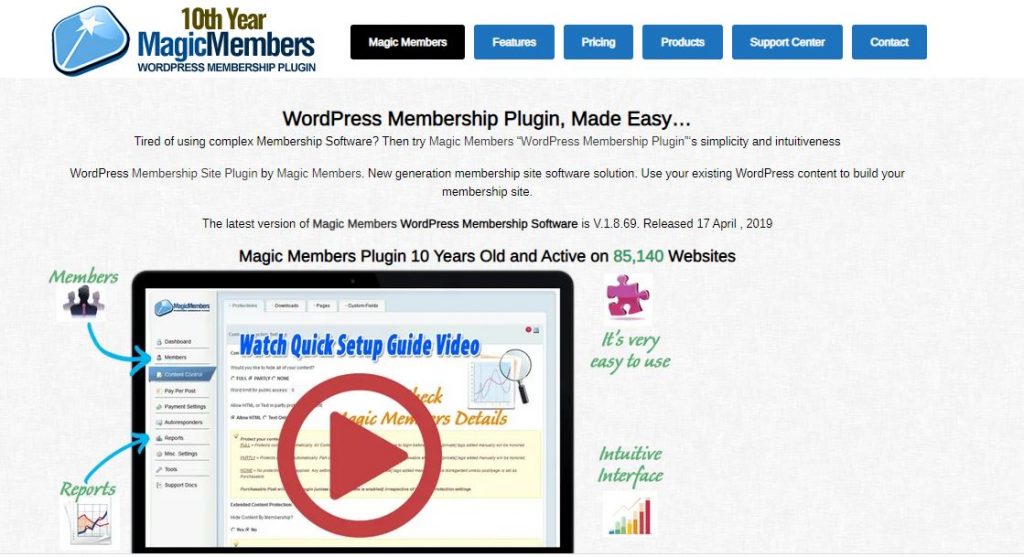 We are looking at one of the best subscription plugins for WordPress. Instead of making all of our premium content available to all the subscribers, we can use its content dripping feature to drip feed content and deliver online courses.
If we are searching for content dripping plugin then this is the best WP subscription plugins. We have listed this on our list for good reasons. It is a premium plugin and will help us to generate good revenue in no time.
This plugin does not use the standard WordPress interface for adjustments and editing and make us feel less intuitive. MagicMember provides easier payments pathway and strong and sequential content delivery. However, its custom design a bit different from the regular WordPress interface may make it confusing to new users.
Features
Compatible with Multiple payment gateways
Integration with email newsletters such as Aweber and MailChimp
Payment subscription support including daily, weekly, monthly and more
Download manager for restricting file access,
Sequential course delivery for content dripping
Automated expiration email reminders
---
Wishlist Member Plugin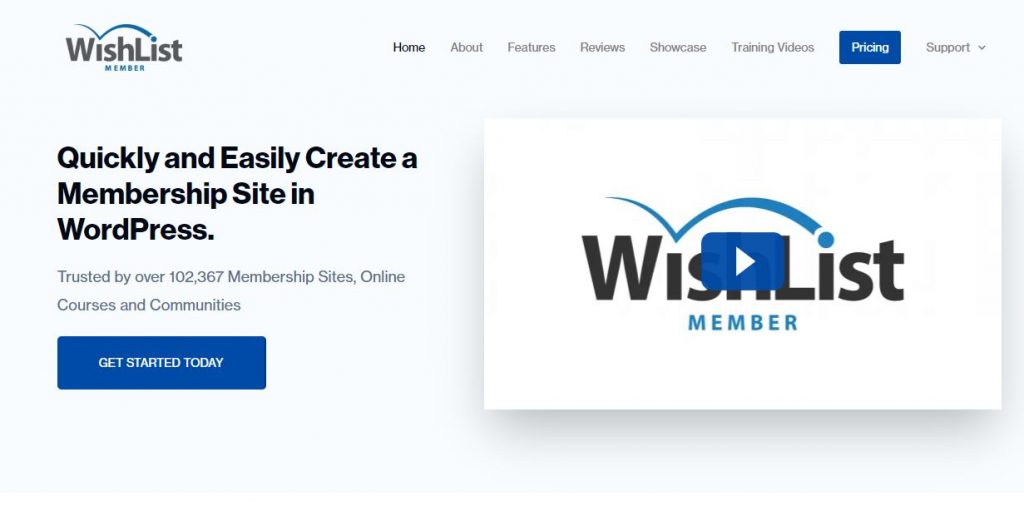 Among the renowned name of the best subscription plugins for WordPress that allows us to handle the restriction and allowance of the website content effectively according to the subscription level.
Due to the lots of options and settings, new users may feel some confusion and difficulties in using it. However, we can get various setting s and expansive menus to control our subscribers and content.
It has an inbuilt bundle of support materials to jumpstart the website. We can have 30 days of free trials for risk management with e-commerce integration but custom variation cannot be made.
Features
Create unlimited subscription level
Sequential content delivery and auto-upgrades of membership levels
Easy ability to hide or restrict individual pieces of content from non-members
Handle free, trial and paid subscription,
Integrates with PayPal and ClickBank
Secure RSS feeds
---
Cart66 cloud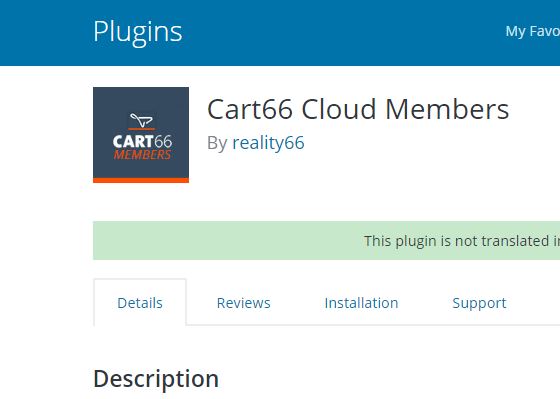 Cart66 Cloud is best for eCommerce stores like selling physical and digital products. It also operates as the subscription plugins that allow us to restrict or sell products on our website using recurring billing and subscription payments.
We are getting 30 days' money-back guarantee to reduce the risk of loss. It also integrates with eCommerce for multipurpose sites, and compatible with lots of payment processors and has multiple pricing plans. However, recurring purchasing requirements may add up in the future if not paid on time.
Features
Sell membership access using the recurring billing engine
Make content available on a drip basis
Support over 50 payment processors
Restrict access to pages, post, sections of content or entire categories
PCI compliant with no requirement for having our SSL certificate
Auto-Membership expiration email reminders for members
---
Zippy Courses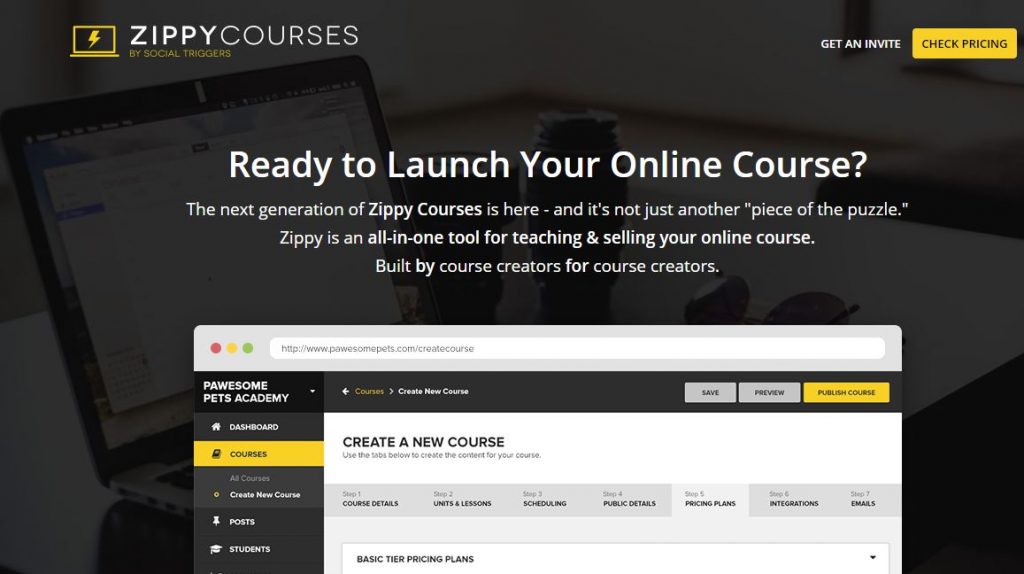 Zippy Courses are the best subscription plugins for WordPress to sell online courses. As the online, market is increasing the scope of online courses is also increasing. This plugin is built to ease the process of making and providing online courses to students.
It omits all the hard work of the process of providing online courses and save our time and let us work with new technology. So that we can focus more on the content creating and improving it.
This plugin uses drag n drop editor and flexible content scheduler. We can release all or selected content at a time. We can also track and analyze data for future strategies and present growth.
Features
Stripe and PayPal are included as payment gateways
Multiple courses are run on one installation
Compatible with any WordPress theme
Smart widgets to lure the visitors
Support and updates
Email integration
---
Conclusion
We have tried our best to give you this list. We have done proper research to make it easy to select the best for you. We are considering that you have gone through the details carefully and choose the best for you.

Shake hands with these plugins and launch your professional, attractive, and easy website. If you have any queries regarding it then feel free to message us. We will try to solve every problem.
If you want to know about the best plugins in the market then click [Best business plugins 2020]. Keep visiting us for similar informational blogs. Thank you for your support. Thank you