The heading is enough to clear the motive to start the content. Though, the content will let you know about the top 10 best hosting for WordPress Website. This Content will make the reader familiar with Word Hosting. What is hosting Why we need hosting on our website and yes the best hosting provider.
WordPress is the most popular platform built on a website. We can easily use WP for blogging and creating a website.
As we know WordPress is the most popular Content management system several web hosting providers have chosen to specialize in hosting WordPress
When a hosting company decides to host WordPress, all the technical aspects of running WP are managed by the provider including Security, speed, daily backup and many more.
The factor that proves the hosting service good
There are few factors that every hosting provider should offer and they are:
The user hosting needs. What kind of website the user is going to develop.
Hosts readability and uptime guarantee. It is not faring to choose the host that operates 24/7 on a powerful server with stable network connections. 99.5% and above is the average recommended uptime score; Anything below 99% is not considered
The price of sign-up and renewal prices. As a rule, the host below 10.0$ is okay to accept.
Types of hosting
Shared Hosting
Are you the beginner??? The shared hosting is for you. Actually, shared hosting is the cheapest one. So, Being a beginner you might not have much idea. That is why you can use shared hosting and have an idea about hosting without spending much.
The Drawback of the shared hosting is that hosts put a large number of users on a single server. As there are 1000 people are using shared hosting there might be some traffic which may cause a bug. This will directly affect load time, speed and functionality to our site even though there is no issue regarding our site.
Virtual Private Server (VPS) Hosting
One step upgraded than Shared hosting is VPS. Actually, the VPS also provides a shared environment but in a different way compared to the shared one.
"Hypervisor" is the mechanism that VPS uses to provide the hosting service. The mechanism makes sure that our site doesn't get done because of others fault. A hypervisor allows a certain amount of RAM for every user, so that if you go beyond the capacity of RAM, you may go down, but will not affect other user functionality.
Dedicated Hosting
Are you the one whose site has 100k visitors per month, then dedicated is for you. We will get a server dedicated to our site. We can have higher flexibility compared to shared and VPS. To use DEdicated hosting we must have a good idea about the computer and server technology.
Why hosting with WordPress
When a website is built the first step is to think about how can we take our website smoothly and in a growing manner. To run any website smoothly we need to consider some important points:
Security: Security is something like water for every website. No matter what you have with your website? what quality and what quantity your website is created. No Security no value of your website. Hosting with WordPress will help you to increase the security of your website.
Speed: Today the word of the computer the speed really does matter. We will not be able to entertain our visitors without good speed.
Scalability: With hard work and dedication we definitely can reach the top. But sometimes we get failure there. The reason for getting failure is we are not able to manage the traffic but using WordPress we don't need to worry about that too…
Support: 365*24*7 WordPress is ready to support its users.
Backup and updates: WordPress backup you daily so we don't need to worry about it and being updated is the key point of WP.
Best hosting for WordPress Website
1.Bluehost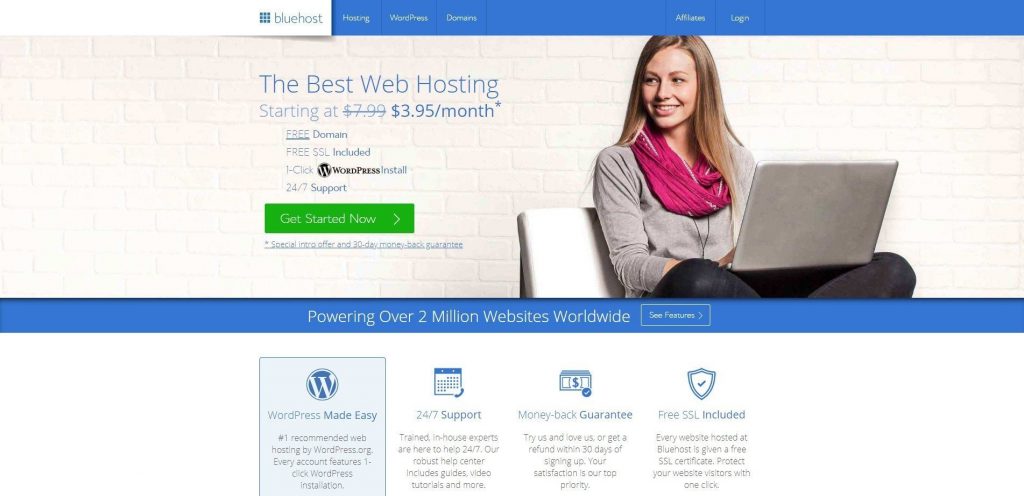 The best hosting for WordPress website is the BLUEHOST. We can get all types of hosting with a BLUEHOST. The Type is Shared, Dedicated, VPS and WordPress hosting and many more. Bluehost is one of the best hosting service providers along with domain service.
IT is powered by PHP la7, HTTP/2, and NGINX+ caching. Bluehost is known as the largest hosting provider owned by Endurance international group. The Bluehost is known for their service they come with a new idea to satisfy their customer every time
Features
100% compatibility
Full support and Assistance
Impressive and Consistent Uptime levels
fastest server speeds
starting at 2.95 $ per month
Free SSL Certificate
Free Domain Name for the First year
1- click WordPress install
Money-back Guarantee
---
2.Kinsta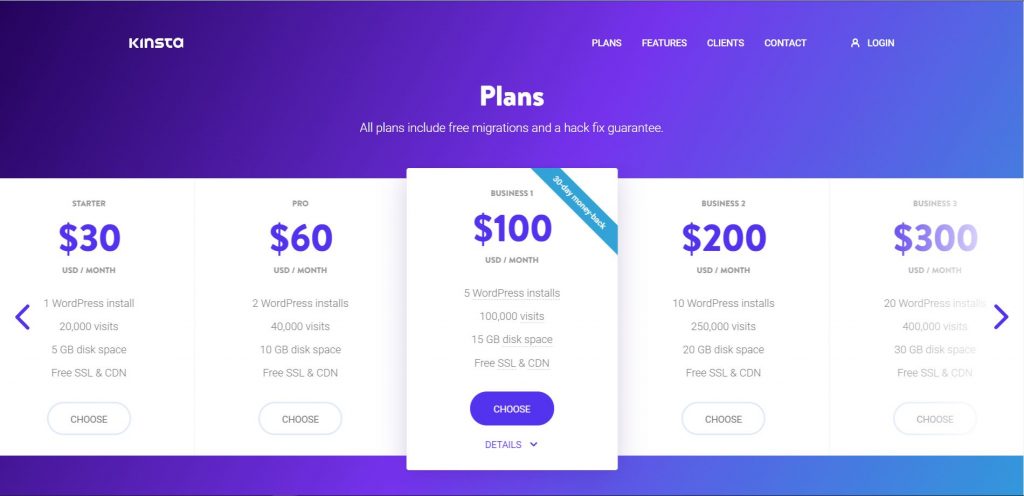 Well managed and one of the best hosting for WordPress Website is kinsta. Kinsta was found in 2013. Always running, monitored, and scaling on-demand.
Kinsta is designed keeping the beginners in mind with advanced features that we are going to love. Both free and pro versions are available.
The best thing about kinsta is " Always ready for their customer". Kinsta is ready to fulfill all our needs regarding hosting. The main point that kinsta focus on is speed, security, support, and stability.
Feature
365*24*7 support and security
100% uptime Reliability
Ultimate speed
Powered by the Google Cloud Platform
Fully managed
Daily backup
Free Migrations
Secure like Fort Knox
30-day money-back guarantee
Easily upgrade and downgrade
---
3. HostGator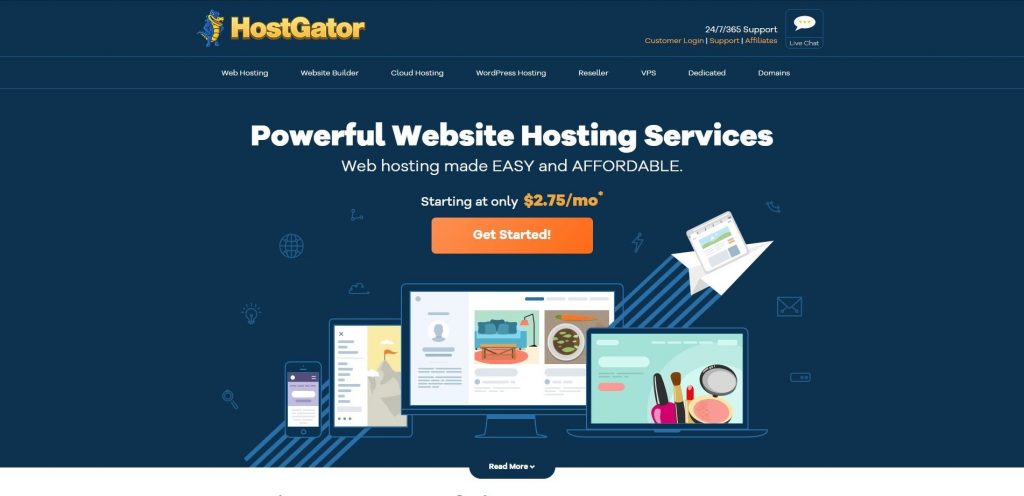 Hosting that provides a vast array of tools that assist us to give shape to our imagination is Hostgator. It is listed as one of the best hosting for WordPress Website. Impressive features of Hostgator like site-building tools and template, a one-click application installer makes it more persuing.
Either it is for personal or business website Hostgator gets you covered in all possible ways. We can say that either as a beginner or professional, it provides full confidence in our website operations.
Features
Flexible and easy control panel.
One-click installation
Easy and Quickstart
Drag and Drop experience
VPS Hosting
Dedicated Hosting
Easy to transfer existing files.
24*7 support
45 day Money Back Guarantee
99.9% uptime
---
4. DreamHost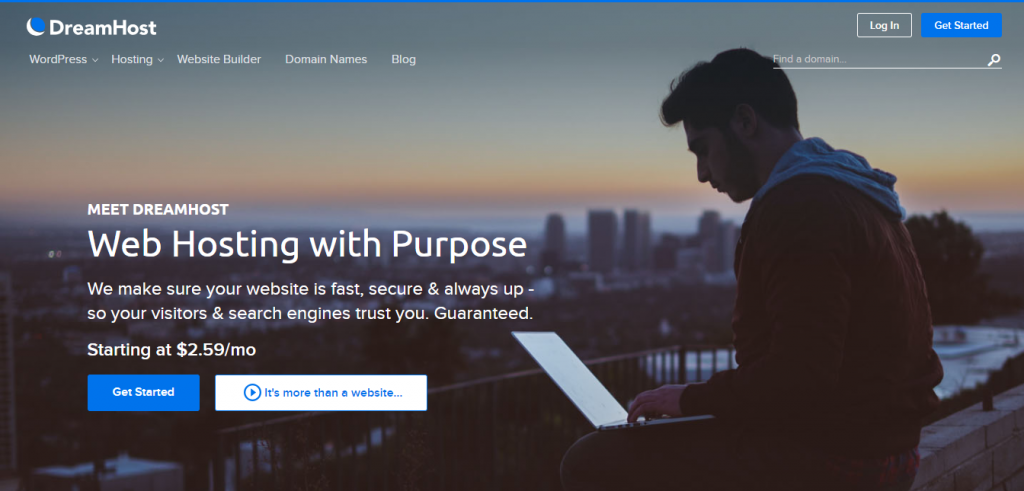 We can rank DreamHost as a well-established, famous hosting with WordPress service provider. Over 500 thousand customers are proof of that.
Along with Bluehost and SiteGround, Hostgator is recommended WordPress hosting by WordPress.org. It is loyal to be simple, fast, reliable and optimized. Some of its interesting plans are Website Builder, free SSL, and SSD storage with unlimited bandwidth.
It is easy to use without any difficulty. DreamHost is highly focused on the requirements of customers and their privacy. And it comes with all the essential features required in the hosting process. It can also be considered as the best hosting for WordPress Website.
Features
Fully loaded required features
Fast and reliable
24*7 professional support
Easy to use
Employee Owned
Commitment to Security
Embrace Open Source
100% uptime
Different level of hosting
---
5. GreenGeeks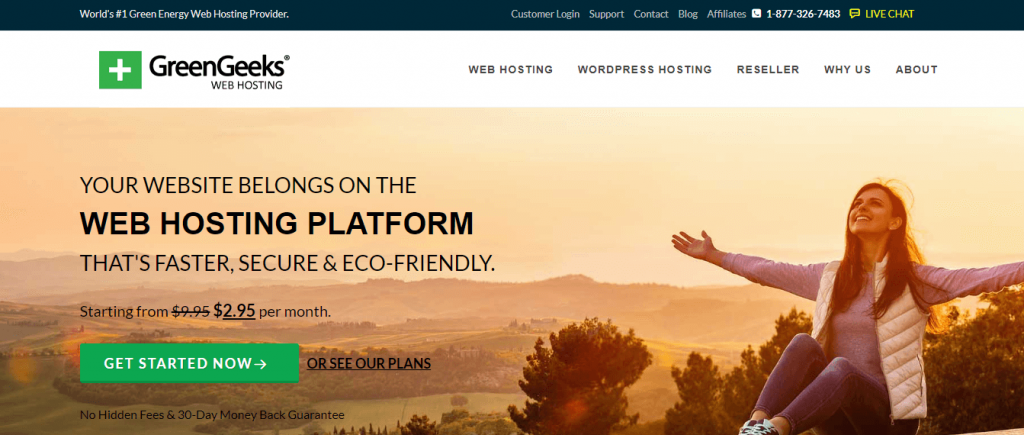 The name is derived by the fact that it is designed by an environment-friendly approach and hence GreenGeeks. Being a fast, secure, and scalable best hosting for WordPress Website, this hosting provider is always a good option to choose.
Their plans include free SSL, in-house/free CDN, unlimited email accounts, unlimited bandwidth, and unlimited SSD storage.
We can swap between different server locations across the USA, Canada, and The Netherland with free migration
Features
Average speed is 420 ms
Multiple hosting options
Manage multiple hosting accounts on our web hosting platform
VPS hosting
SSD Storage Arrays
Built-in scalability
Advanced Security
Stable hosting platform
24*7 support and soon
---
6.InMotion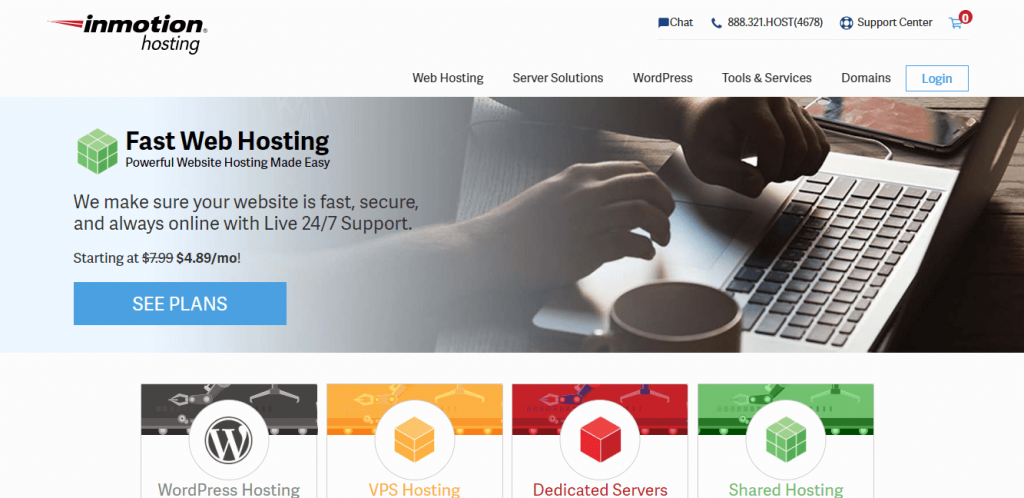 One of the best hosting for WordPress Website is InMotion. It can be considered as the managed platform for web hosting. InMotion is known for its service and fine-tuned delivery along with performance and security.
We can get free website migration and easily start a w website when we already have WordPress installed.
Features
Fast and powerful web hosting
Launch in just 2 business days
Reliable Website hosting
Commit for open source
Secure server
Easy setup
A+ rating and soon
---
7. iPage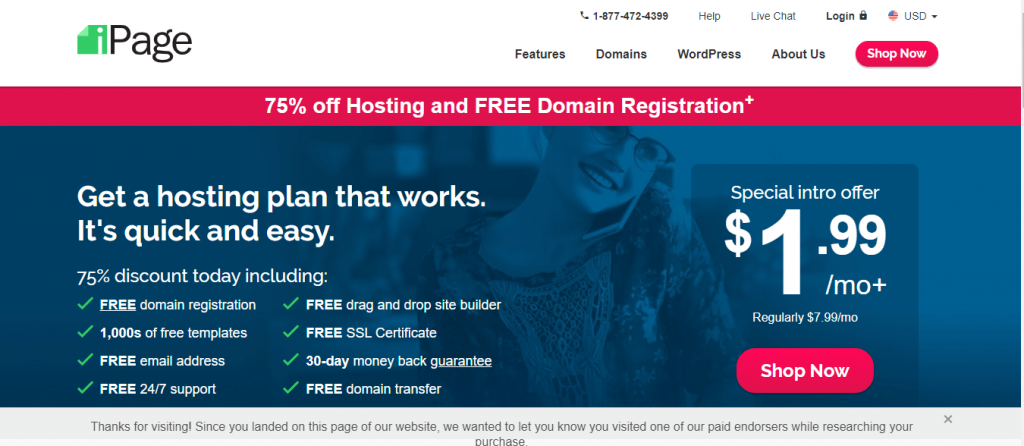 We can consider iPage if we are thinking of options for hosting with WordPress. It provides us with a free professional domain name for a whole year.
Furthermore, an unlimited email address can be created in our domain including autoresponders and email forwarding. With iPage, we can make our website tempting and demanding.
Mainly it serves for online stores, however, we can use it for blogging and set a photo gallery.
Features
1000s of free template
free domain registration
free SSL certificate
24*7 professional support
Free drag and drop features
30 days money-back guarantee
Free website builder
Unlimited MySQL database
Scalable bandwidth
---
8. A2 Hosting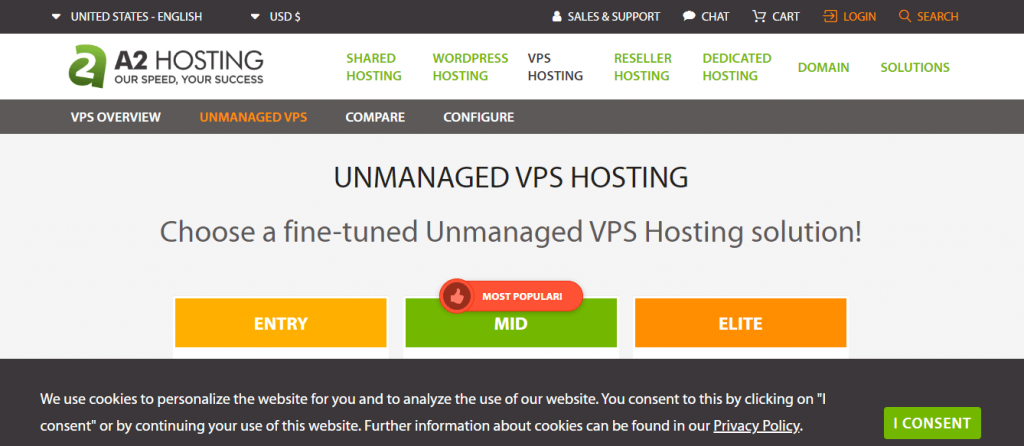 Like some other best hosting for WordPress Website A2 Hosting is among the fantastic options. It is known for its low costing and the claim of being 20 times faster than your current hosting provider.
It is among the fastest and highly optimized hosting provider. security and privacy are highly focused.
Features
24*7 expert support
Free account migration
99.9% uptime
Easy control panel
Unlimited SSD space migration
Easily customizable
Easy WordPress backups
---
9. FlyWheel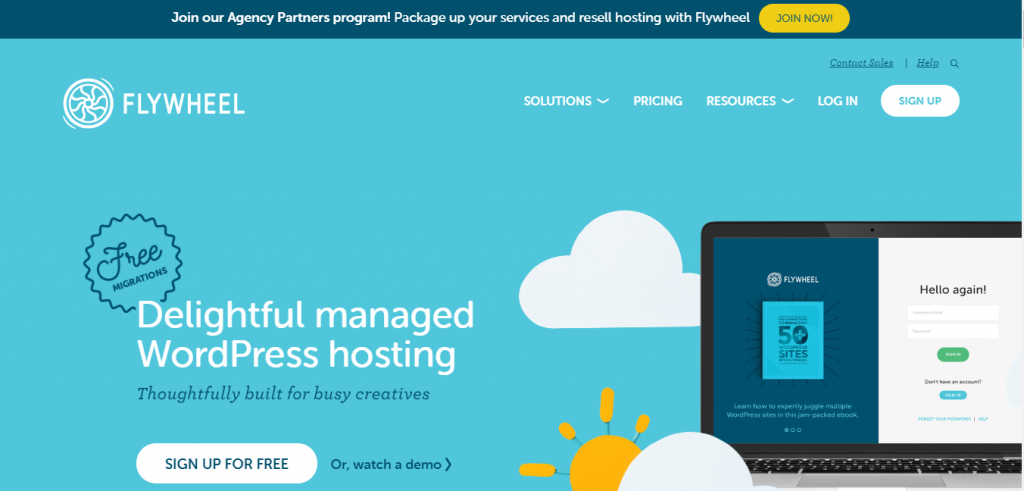 A powerpack of rich features of hosting with WordPress is Flywheel. It offers speed, solid performance, and support which lures the users.
They provide free migration, auto backups, and automatic WordPress updates. The FlyWheel provides a next-generation infrastructure with great traffic scaling and high-level security.
FlyWheel simplifies the task of hosting, streamlines and processes. The friendly working environment encourages us to use full creativity and use the hosting.
Features
Free Demos
Powered by Google cloud platform
Resourceful
Speedy site development
Simple dashboard
Custom-built plan
Real human support
---
10. Wpmudev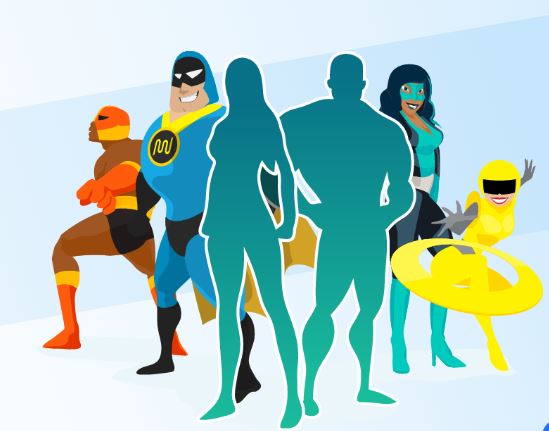 One of the best hosting providers which are rich in feature and able to satisfy their customer is Wpmudev. Wpmudev promises for the safety and security along with the 24*7 customer service.
Feature
Super-powered hosting, support, site management, and plugins
Fully dedicated, managed, mind-blowing hosting
Streamline management of unlimited sites can be hosted anywhere
Safe and secure
Forms, migrations, stats, backups, and many more.
---
Conclusion
Here the list of the 10 best hosting for WordPress Website ends with their features. I hope you will find the content useful. You are free to send your comments regarding this. we will respond to each of them as soon as we get them. I hope you liked the content and keep on visiting us.
We have more interesting content like " Increase traffic on WordPress Website", "best WordPress themes for eCommerce" and many more. Keep on visiting!!!!! THANKYOU!!!! HAVE A GOOD DAY !!!